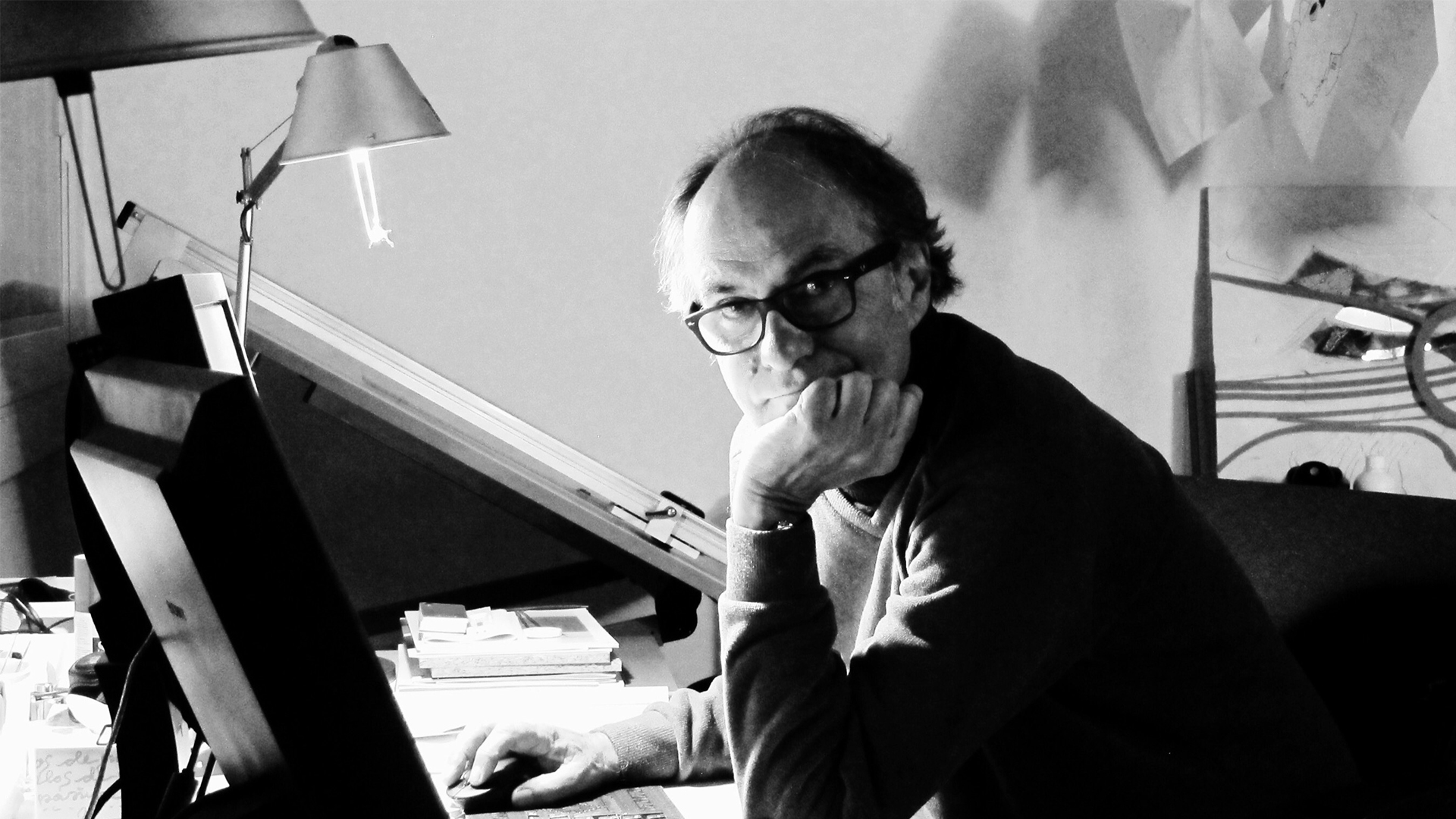 Gabriel Teixidó is a designer with a strong relationship with POINT. Many of the company's collections have used his designs such as Colors&Compact, Fennec, Lineal, Tub, the U collection and more recently, T or Paralel. He is an industrial designer with multiple national and international accolades such as the Silver Delta Award in 1992 and 2997, the Industrial Design Award from the Consell de Cambres de Catalunya, the New Style Award and the Sidi Awards. Now, we're going to speak to him to talk more about his T and Paralel collections, two of his new offerings for Point.
Whilst the T collection is a colourful proposal with seats, stools, tables and aluminium puffs, perfect for contract and hospitality; Paralel is an outdoor collection in teakwood. Both of them ooze personality.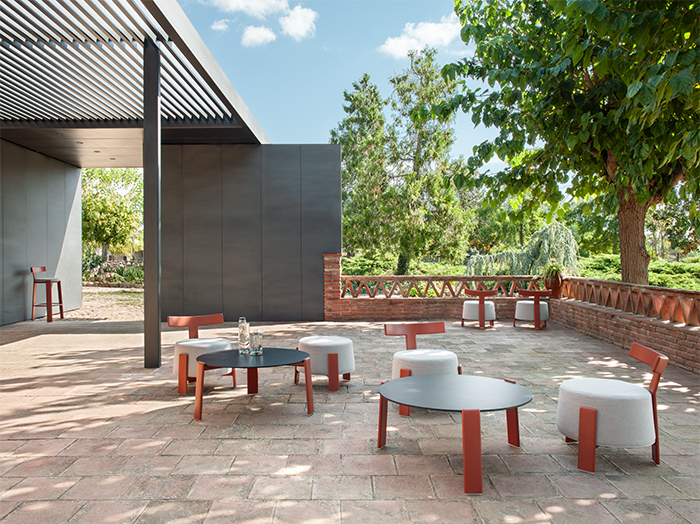 - What qualities does the T collection boast?
It has a lot of qualities because it addresses a lot of situations. The collection was born out of an order from POINT to design a stool, but I started dig a bit deeper and I ended up using the stool for other things. That's how this collection came about, and it has a lot of solutions for different situations because it has stools as well as seats, tables and puffs.
- Why is the collection in aluminium?
- When POINT made the order, I started to think about a teak collection but then, as we started working, we saw that in aluminium it went better with the collection's concept, which is much more functional with a highly refined designed.
- What inspired you for the T collection?
- When I'm facing the creative process I always start off the same. I start thinking about the order that POINT made and then the paper, pencil and the scribbles come. More than 300 drawings where my imagination runs wild. And that's how I ended up with T. I would say that by looking for logic in simplicity, I got the style of the letter which is a very simple stroke.
- How did the naming come about? Why that name?
- The naming was the last thing. Once the product was defined and the design finalised, you just had to look at the collection to realise that it could only be called T. By calling it that, the fusion between the name and the product was going to ensure that if anybody saw it just once, they would remember it forever. It's a collection with a very distinctive personality. It's always within the lines and really personal.
- What do we see in the T collection then?
- I personally see some very clean, very graphical shapes. I see simplicity in its shapes. The motto "less is more" for me is gospel and it's the same with the T collection too. The result is a different collection with a huge amount of personality.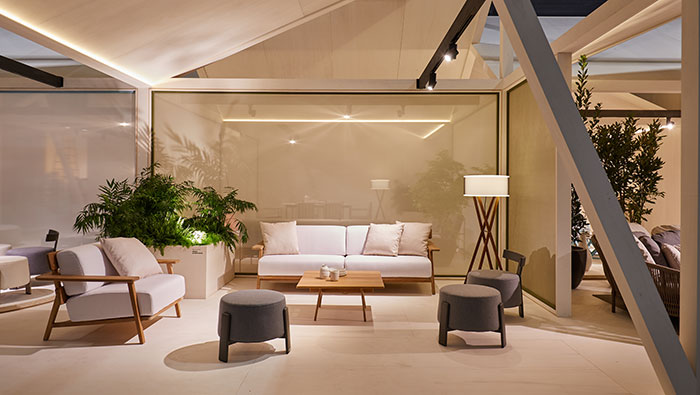 - Let's talk about Paralel, your latest collection for POINT
- Paralel is a collection with up to 14 pieces made from teakwood which includes chairs, armchairs, seats and tables. This collection with the teakwood boasts a mix of ropes and fabrics to provide comfort and convenience depending on the space and its requirements.
- What is the most characteristic element of Paralel?
- Without a doubt the back is what gives it its signature point and sets it apart from the rest. That's where the name of the collection comes from, Paralel, inspired by its own structure and silhouette. A teakwood structure with long parallel arms that accommodate the furniture's back and seat in a balanced and elegant way.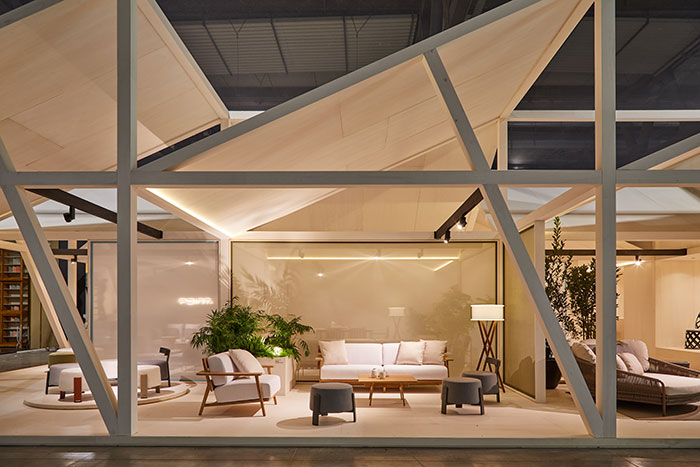 - How would you define the Paralel collection?
I think of it as a peaceful collection that is here to stay. Its signature element, wood, is a living element that connects well with people and provides warmth.
- Generally speaking, what are your sources for inspiration?
- I have a special penchant for Nordic and Oriental design. Going back to the T collection, it could look a bit Oriental, but actually I didn't take any inspiration from either of those styles to design it. The collection came to life from be looking for levity in the piece.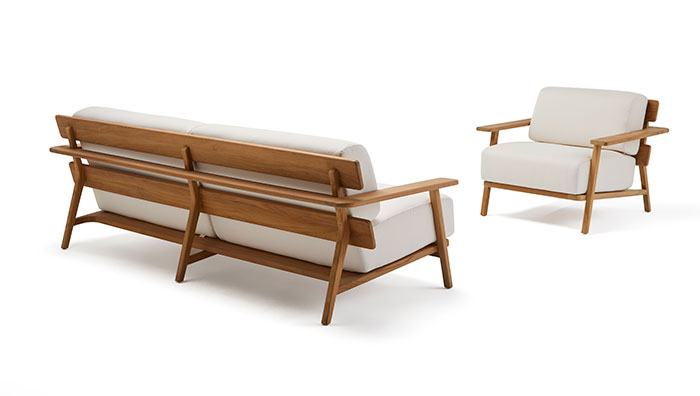 - Who are your references in the world of design and architecture?
- A lot of people but then nobody at the same time. Carlo Mollino, Richard Sapper and the all time classics. To be honest, I like whatever surprises me.
- In your creative process, what is it that motivates you most?
- In all my works, the moment that I like the most is when I say to myself, "I've got it". Although in that moment really the only thing I do have is the direction to be able to move forward and not a lot more. From "I've got it" to "It's done" there is a lot of work in the middle.